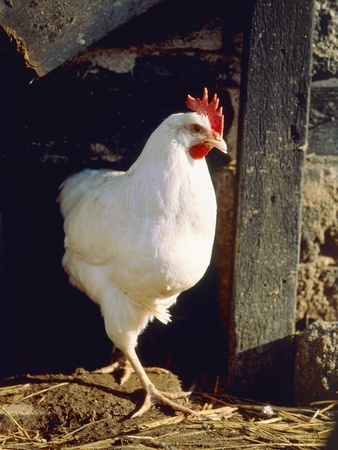 I did something I really enjoy doing yesterday.
I cleaned out my chicken coop.
I don't know if it's the satisfaction of seeing something so utterly filthy become tidy and livable again.
Or, if it's the fact that I spent several hours outside.
Or that I completely exhausted myself with a physical job.
Whatever it is I LOVE IT!
I get this feeling every time I clean the coop.
My chickens on the other hand do not appreciate my efforts.
They peer suspiciously at the fresh bedding and refuse to enter their clean home.
It looks different.
It might be scary.
The dry bedding might feel weird to their little chicken feet.
They liked the manure-filled mess they were living in better than the fresh redeemed home I offered them at no personal cost.
Why does all of this sound vaguely familiar?
Jesus daily offers me a fresh portion of grace at no cost to me personally.
I ponder it suspiciously, and wonder, am I good enough for this beautiful gift?
I didn't do anything to deserve it.
It might feel scary to my heart.
I think I would rather wander around in the "manure" of yesterdays mistakes.


"But God, who is rich in mercy, for his great love wherewith he loved us,

Even when we were dead in sins, hath quickened us together with Christ, (by grace ye are saved;)

And hath raised us up together, and made us sit together in heavenly places in Christ Jesus:

That in the ages to come he might shew the exceeding riches of his grace in his kindness toward us through Christ Jesus.

For by grace are ye saved through faith; and that not of yourselves: it is the gift of God:"
Ephesians 2:4-9
By the way, I only feel this way about MY chicken coop I would get no wonderful sense of accomplishment from cleaning out yours. :)